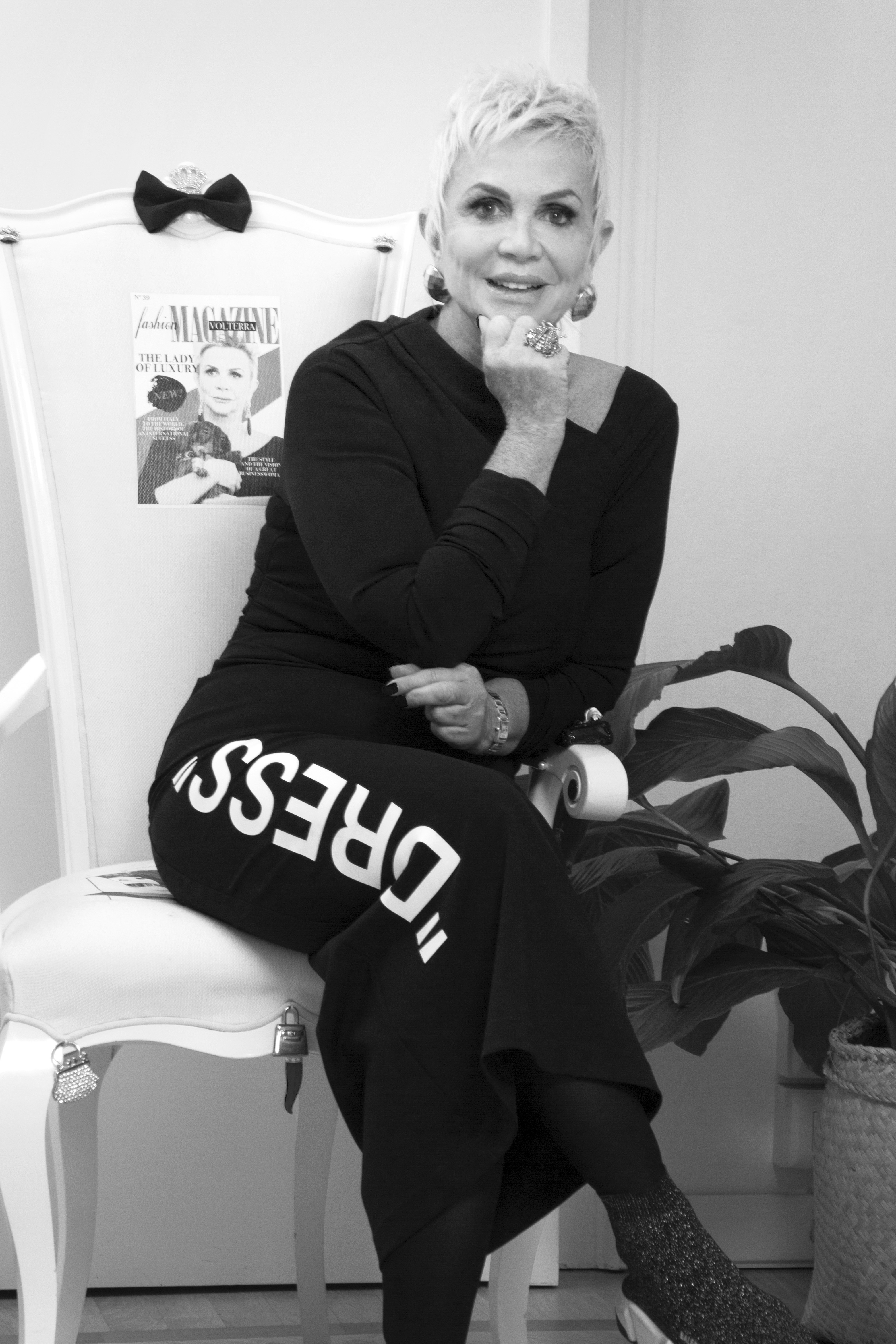 THE WOMAN OF BIG CHALLENGES
Myriam Volterra, founder and CEO of the LuxuryItalianBrands by Myriam Volterra, is an Italian entrepreneur. Since she was a child manifests a great passion for fashion and everything related to harmony, elegance and beauty. Growing up in a refined, multilingual and stimulating environment, she began her studies in Italy and abroad. Her success is due to the ability to dare and challenge conventions by relying on her intuition and visions, qualities that led her to create a leader company in the luxury market.
«Since I was a child I spoke five languages. I firmly believe that the success in my life is mainly due to the cosmopolitan education that my parents gave me. I feel like a citizen of the world».
Commitment, determination and will are the key words for the success of this tireless businesswoman who has always acted from a young age, taking advantage of the job offers that have arisen.
«At 17 I worked as an interpreter for the Fiera di Milano. I never backed down. I used to make photocopies, I brought coffee to customers, I closed the boxes with the goods to be sent. I was very strict with myself, so today I am very strict with my employees. It was the starting point for my career in business and for facing new challenges ».
FIRST STEPS IN THE FASHION WORLD
Myriam Volterra's career path? It looks like a movie. After a first job in an engineering company that produces electric welding machines, she started working for Annalisa Ferro, a small women's brand. Within a short time, the sales increased from 5% to 53% and from that moment she started his own work as a freelancer. The climb to success began.
«In 1978 I worked for Ferrante Tositti Monti, one of the first showrooms in Milan in the golden age of Italian fashion. I was in charge of sales with good results. When my direct superior got sick, I was put in his place for a temporary replacement. It was a chance to prove what I was able to do. I completed an order exceeding all expectations and for this reason I became famous in the sales sector. It was then that Gianfranco Ferré offered me a position as sales manager. It was an exciting experience that lasted four years. I gained the second most important position of the company which was the springboard for my subsequent activities. Like a prestigious collaboration from Les Copains, where I launched the Ursula line».
ITS JUST BUSINESS
For Myriam Volterra the time has come to set up its own business. The time is now ripe. She has already accumulated considerable experience in the luxury industry and has in mind a winning business idea. It's now time to realize it.
«One day, a friend suggested me to start my own business. He told me about a new sector to explore in the field of stock merchandise of the previous season. I liked the idea and immediately put myself at work. I did some market research and I found my first client, he was from Netherlands, and many others interested in that kind of product. I started carrying them around to buy stock products».
MY MARKETING.
What is marketing all about? The common definition states that "it is a set of techniques intended to make goods and services available to the consumer and the user at the lowest cost to the consumer and at the same time profitable for the enterprise". The marketing of Myriam Volterra, in addition to an undisputed ability to assess the market, is experiential, which means based on her personal experience and based on intuition, foresight, ability to predict and creativity.
«I never studied marketing, in my opinion doing business in a good way depends on DNA. Before starting a business, it is essential to look around, study the market and the people with whom you could have professional relationships. Nothing is really impossible, I simply took the opportunities that life gives me. It's a matter of timing, good mood and energy».
MY COMMUNICATION 
For Myriam Volterra communication is based on physical and virtual visibility. His motto is to attract attention, especially in a competitive market like the one in which the company operates. Nothing should be left to chance.
«We must never neglect anything, every detail is fundamental: attending events, meeting people, always being online are the first rules. Traveling is also very useful to be constantly updated about changes in the world and technologies. I was among the first to have a cell phone and a fax machine. Being aware of the reality in which we live is a must ».
THE BURLINGTON COTTON FACTORY, A CASE HISTORY 
Several years ago, to expand her business, Myriam Volterra decided to go to New York with a list of contacts provided by the Italian Commerce Institute. It has been an enlightening journey in which she realizes the importance of a "good leadership", based on an empathic and constructive relationship with her employees and collaborators. The story of this journey becomes a case history.
"While I was relaxing in a room at the Hilton Hotel - it was around six in the afternoon - I looked at the list of contacts with phone numbers I had. At a certain point I read the name of a CEO of six hundred stores. It was the perfect time for this call. The secretary was no longer open and he replied in person. He immediately made an appointment for me in New Jersey and I didn't waste time. Three hours by car and to arrive at my destination. I entered a room full of clerks and nobody looked at me.
No coffee, no cappuccino, I felt out of place and neglected. Shortly after the CEO came and ordered his employees to offer me something to drink. Only later he dedicated ten minutes of his time to me. Two weeks later I received a contract: I was officially their exclusive buying office. That meeting was crucial for my career. I realized that a good welcoming is essential. Today I try to do the same every time someone shows up in my office. They will always be welcome, welcomed with a coffee and with all my availability. I believe that listening to others is the most important and precious thing that every person, of any social and cultural background and level, should never forget.  Listening to others is priceless».